Andres Sarda Spring Summer 2022 Lingerie Collection
For the coming summer, our lingerie collection is vibrant and positive. Spectacular in the fabrics, the colors and the shapes we are proposing because we believe women will dress with thriving desire.The series go beyond lingerie... The freedom to use them as we want is at the core of the collection. We have created garments which are versatile, so that everyone can wear them as they want, according to their mood, the moment or the occasion. Lingerie can be adorned as prêt-à-porter. Bodies can be swimsuits and vice-versa.Following our celebration of passionate women with extraordinary lives, our series carry the names of women who proved revolutionary in the worlds of fashion, art, science and literature. Johnson, Jackson and Vaughan for example are hidden female figures in NASA. We believe passion is essential in life, whatever our path. Nothing is insignificant if done with passion and love.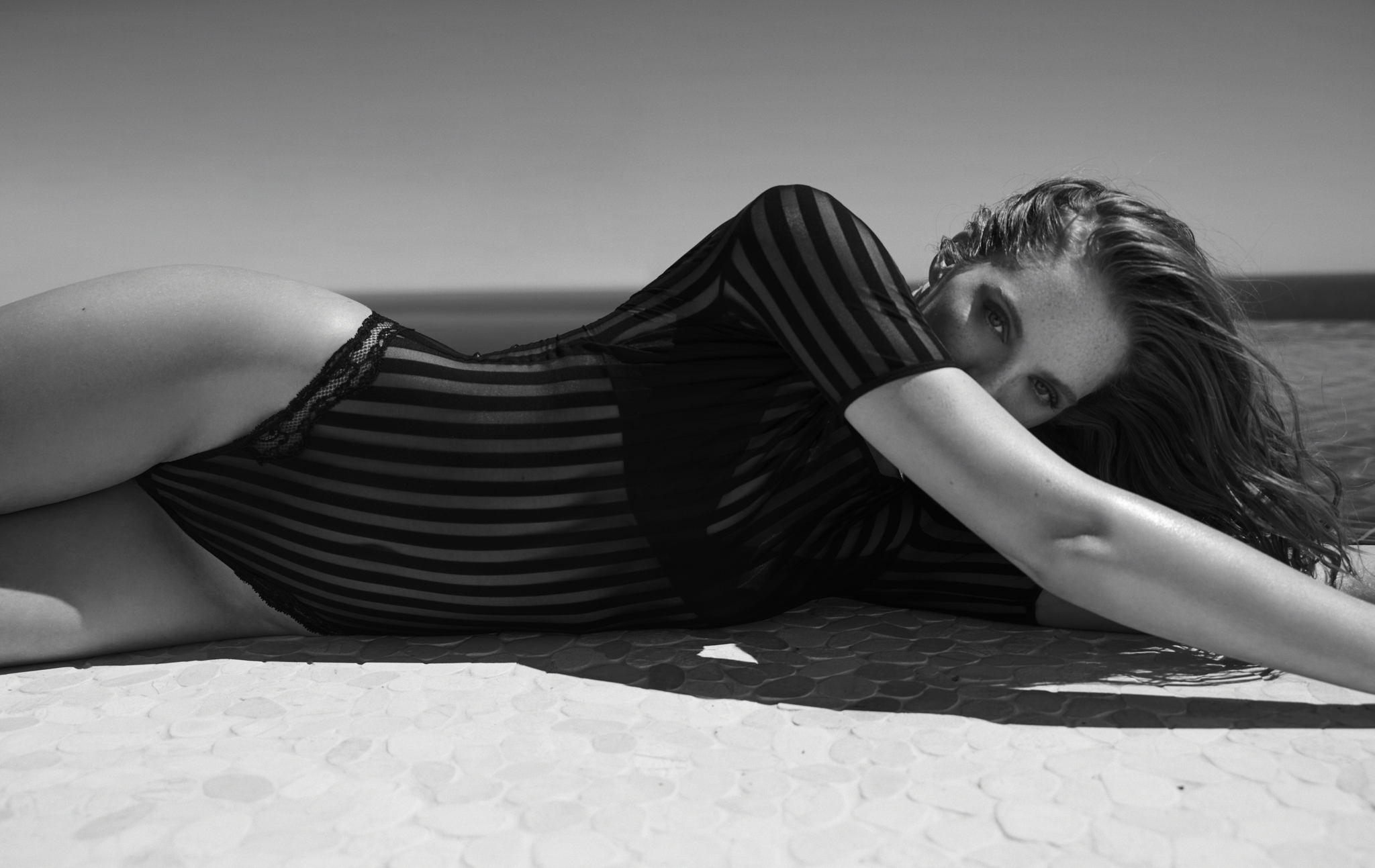 JOHNSON
The first series is called Johnson, after Katryn Johnson the woman who calculated the trajectory of the Apollo and Mercury missions, making it possible for man to reach the moon. Striped tricot fabric, embellished with a band of elastic leavers lace from Calais desplaying a delicate floral cashmere pattern.
All garments produce a highly visual impact. A tone on tone piping adds to their strength and character. Johnson has 2 colors for an on/off efect: Black with a visual effect that is accentuated by the vertical bands detaching from the grey background.and White, the color of purity, discreetly pumped up by the tone on tone contrast of the vertical bands and the piping.
JACKSON
Mary Jackson was the first Black American mathematician to become a Nasa aeronotics engineer... Jackson is a bohemian-chic capsule made in jacquard and finished with a band of elastic leavers lace from Noyon.
This series is conceived as pret a porter and tops can be worn in or out. Wenge combines dark brown, kaki, navy, white and orange hues, highlighted by a golden Lurex thread
VAUGHAN
The first Madrid series is called Vaughan, after Dorothy Vaughan, the first Black woman who held the positon of supervisor in NASA…. Vaughan is made of sheer tulle embroidered with a delicate jewelry pattern. A band of elastic leavers lace from Noyon juxtaposing 2 crochet effects is used in crosses to sign the originality of each garment.
There are 2 colors for Vaughan: Caribe Taupe, a soft earthy caramel tone and Coral Crush another soft tone halfway between pink and Orange.
THARP
The next Madrid series is called Tharp. Marie Tharp was an American cartographer who drew the first maps of Ocean seabeds… Tharp is the much expected all elastic lace serie. Combines 2 elastic leavers lace from Calais (Sophie Hallette).
The strength of the animal print combined with the delicacy of a floral band with fishnet effect.
Tharp comes in Chantilly an Off white. Simple and elegant and Barcelona Blue Barcelona Blue, a warm Mediterranean tone in honor of our hometown's legendary sky.
There is also a limited edition made of Lurex tulle embroidered with transparent sequins. available only in Chantilly.
FRANKLIN
In the Ibiza segment, we propose Franklin, inspired by Rosalind Franklin the forgotten researcher of the ADN structure whose work contributed to the advancement of medicine... This high-end series combines the finest fabrics. Haute couture leavers lace with fishnet effect and eyelashes, embroidered tulle representing a delicate poppy flower. French silk applied livishly.
Franklin is high level luxury with an original and modern design. 2 colors: Blue lake ​ a camailleux of delicate blue accentuated by the silk applications and Makeup that is a bronze foundation tone lined with contrasting deep red silk applications.
There is also a limited edition with a large bow of silk that can be tied on the front. available in makeup only.