ANDRES SARDA SPRING SUMMER 23 SWIMWEAR COLLECTION
Andres Sarda's Spring Summer 23 series are inspired by women who have been revolutionary in the world of architecture. In a world as uncertain as the one we are in, where new crises appear constantly, putting everything at risk, we can only control what surrounds us, our day to day, our environment. Through that, we can attempt to influence the world, improve it by making it a kinder, more positive and pleasant place. Architecture helps us build a better world, sharing beauty, wellness, inspiration and positivism. Breaking barriers, becoming accessible, surprising, always bringing something new and positive to our lives.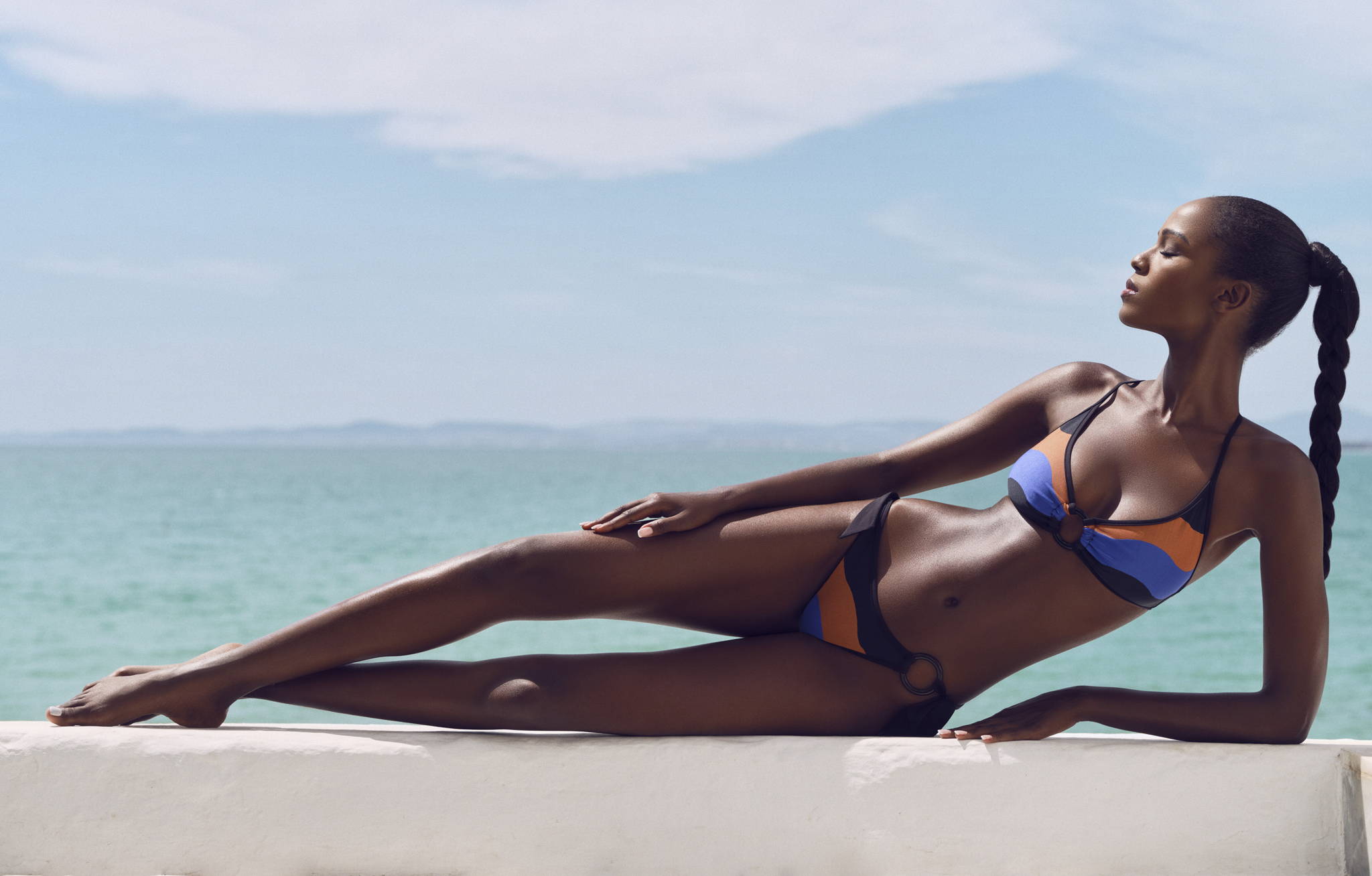 DENIS
This collection pays homage to Denise Scott Brown, the brilliant Zambian-born American architect, urban planner, writer and teacher. Although she contributed to the field of architecture through her many works and by training of thousands of architects across the world, and she is recognized for her urban planning proposals, she has been historically known as 'the invisible architect'.
Jacquard fabric made exclusively and in close collaboration with our Design team and the supplier in Spain. Lines are woven in the form of waves, bringing new meaning to Andres Sarda stripes. Renovation and inspiration go hand in hand. The collection is embellished and outlined by a contrasting black decorative ring, as well as other details on all the garments. The color Sun is made up of wavy lines in a combination of yellow, white and stone and the colour Blue is made up of wavy lines in a combination of black, blue and copper.
PERRIAND
Dedicated to Charlotte Perriand, without doubt one of the most important women in architecture thanks to her extraordinary contributions to and creations in interior design. She left a lasting mark and her own individual stamp on artistic and modern furniture design. In all her creations, her most outstanding, distinguishing feature is her sense of innovation within the framework of rationalism.
This collection is made using a striped fabric, produced in direct collaboration between our Design team and the fabric supplier in Spain. Each approach to colour is a perfect combination of three artisan shades, in which the study of the pattern is fundamental. A collection with the highest seal of craftsmanship.
Neon Yellow, a combination of vertical fluorescent yellow stripes juxtaposed with horizontal stripes in white and grey vigoré.
Sand, a combination of vertical white stripes juxtaposed with horizontal stripes in black and brown.
NORMA
The last series of the Barcelona segment is inspired by Norma Merrick Sklarek. Born in 1926 in Harlem, New York, she is considered the first black female pioneer in architecture. She worked behind the scenes on some of the biggest architectural projects in America. She was also the first African-American woman elected as a member of the prestigious American Institute of Architects (FAIA).
Close collaboration with the Spanish printmaker allowed freshness and light to be obtained in the contrasts. It is accompanied by a spaghetti set with each garment embellished by a small black jewel.
Norma Wild offers us a new take on animal print. It plays on colours inspired by the savannah, in a young, spirited, and unexpected version of this print.
GRAY
Dedicated to Eileen Gray, who was born in 1876 in Ireland to an aristocratic family. Unfortunately she received very little recognition in her lifetime. Over time she has been recognized as one of the greatest architects in history, and for her furniture designs. Her talent brought together the leading trends of her time, including art deco and the ideals of modernism.
This collection is made from an extremely cool, soft and lightly satin-finished ribbed fabric from Italy. The only detail that accompanies it is a matching piece found on the straps and the front. Simplicity and lines are the signature details of this series.
Red, Vital, youthful red – fresh and very bright.
Ocean is an intense blue – elegant and very special.
MAHONY
Not only was American architect Marion Lucy Mahony, born in 1871, the second woman to receive her degree in architecture from MIT, she holds an important place in the history of modern urban planning on her own merits. Together with her husband, Walter Burley Griffin, she helped design Canberra, the capital of Australia, in 1912.
Lurex fabric details on the straps and waist, and a special collaboration with Swarovski to embellish one of this collection's most special garments. A Blue print inspired by the seabed. It transports us to a sinuous world brimming with life and colour.
BARDI
Dedicated to another famous woman architect of the 20th century – the Italian-Brazilian Lina Bo Bardi, who was born in Rome in 1914. After completing her studies at the School of Architecture at the University of Rome, she moved to Milan, where she became editor of the famous magazine Quaderni di Domus. When she died in 1992, she left a legacy that includes exceptional graphic and furniture designs, the result of her many varied and extensive creative and innovative talents.
Calendered fabric from Italy, which simulates leather, is the only element of this collection. It is underpinned by the shapes and finishes that are the essence of Andres Sarda's origins. An intense black that simulates leather. There is also a limited edition of a dress and a swimsuit embellished with swarovski crystals.
DREW
Collection inspired by Jane Drew, a multifaceted architect born in England in 1911. She was also known as an urban planner, academic, author, and editor. In an industry dominated by men, she was notable for fighting discrimination against women.
Drew is a collection based on crêpe fabric from Spain, made using recycled fibres with GRS* certification. It has a soft structure and dries easily. It is accompanied by a decorative detail that infuses it with character: an embroidered wave style reminiscent of the sea, positioned in contrast and technically known as rick rack.
Two colors:
Lavender, the front parts are in Lavender and the back in Yellow. The embroidery is positioned the other way round, playing with these tones.
Navy Blue, garments made in a unique shade of navy blue, with a contrasting ecru embroidery on the front part.