ANDRES SARDA S/S21 SWIMWEAR COLLECTION
We designed Summer 2021 thinking of rebellion and revolution. We felt the world needed to react to survive.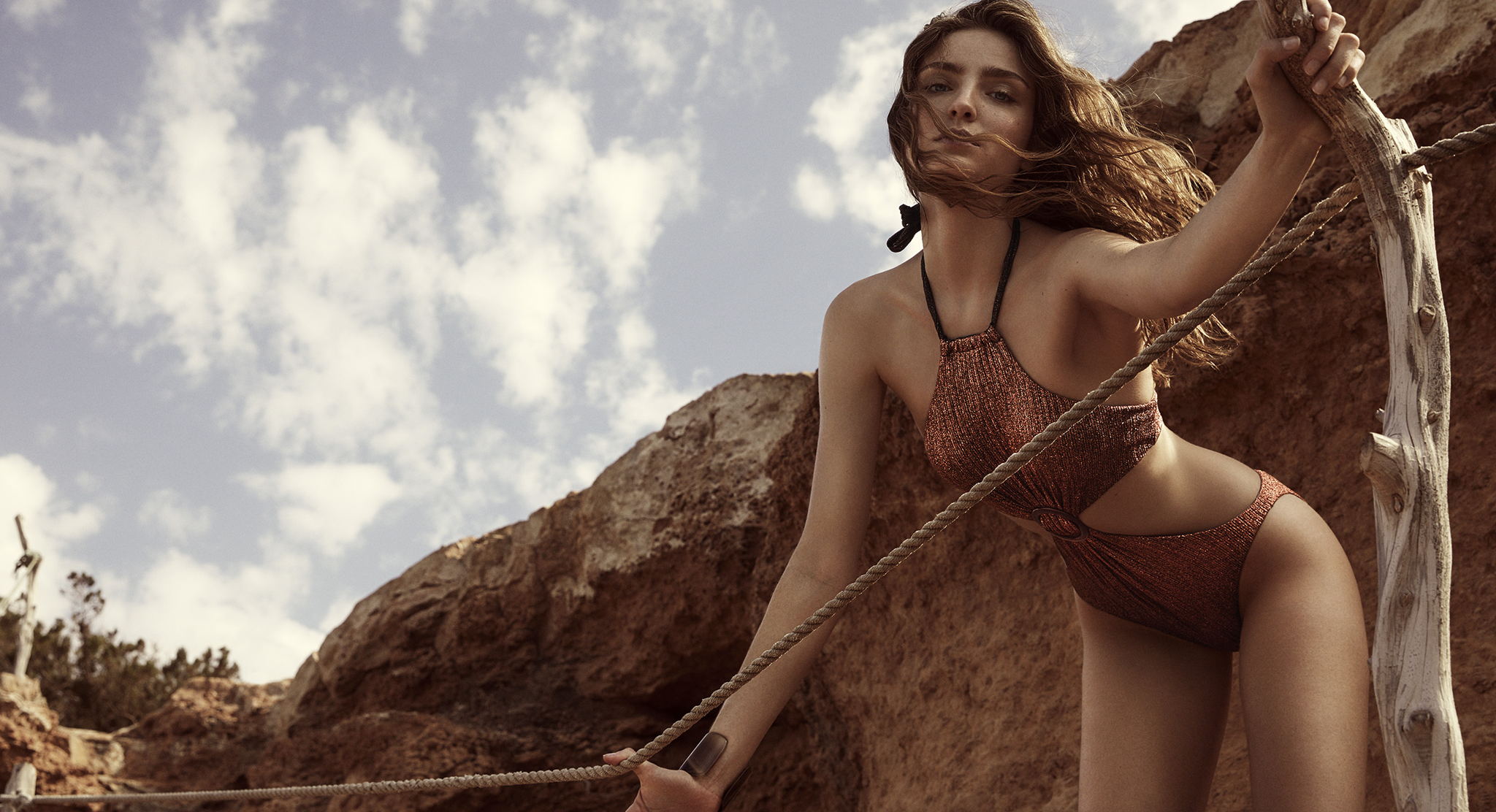 We had in mind great female figures who helped or are still helping to change the world through acts of resistance and freedom. All series were named after those role models: Hedy Lamarr, Elsa Schiaparelli, Megan Rapinoe or Tarsila Do Amaral…
Nature has been ahead of us, disrupting the plans worldwide in a way we couldn't foresee.
With the change in collection planning we reintroduced some of the lingerie series from winter 20, giving them a fresh summer look. They were inspired by endangered species, noble and strong creatures.
Now, both seasons are clearly connected in the concept of RESILIENCE. Resilience in NATURE and in PEOPLE. Resilience as the quality that helps living organisms, improve themselves in tough environments. 
These passionate women with extraordinary lives and the beautiful animals reigning over Nature share that same strength.
Andres Sarda encourages women to enjoy their freedom, to be strong, and to reconnect with Nature embracing the power of resilience
IMAGINE
Imagine is now transferred to SS21
This trendy line is in the same segment as Megan
The main fabric, made in crochet, gives a strong visual effect. It is combined with Millefoglie fabric that provides lightweight, elasticity and comfort.
The colors of Imagine are complementary: Rainbow is a psychedelic combination of soft tones while Marine gives a more classical interpretation of the sixties' style.
The models shown are the 14 with a bustier look and the soft strapless bandeau under the long fluid dress which can be worn at the beach or at a night event completes the range
BIBA
Biba is our solid color basic… not so basic as the fabric is an innovative stretch jacquard that we developed with our Spanish supplier to obtain a subtle snake skin pattern on the surface of the garment.
A jewel made of resin stones and gold colored metal rings decorates the straps Biba comes in 2 colors: Bollywood Rose, a bold and luminous fuchsia and Paradise Green, a beautiful dark kaki Among the shapes, we would like to highlight the new sliding triangle, 19, with removable pads, the trikini that we propose with the 20 cup and the long dress, made of lightweight modal
MEGAN
Megan is our entry price stripes line, a first-time logo-typed signature
The knitted fabric has been created in collaboration with a Spanish supplier and is proprietary to us. The stripe rapport is regular and the Andres Sarda logo appears discreetly in the white band via the jacquard process.
A gold color metal anchor chain closes the mid front or decorates the strap depending on the styles
The unique color combines navy, white and red stripes, for a perfect marine look
The highlighted styles are the 16, padded balcony, hidden structure, the halter swimsuit with the 20 cup with two positions for the straps and the soft strapless bandeau…
ADICIHIE
Adichie is our mid-range solid color line.
Two Italian fabrics are combined: ​ Azotto on the outside, soft, thin and smooth and Millefoglie on the inside, strong and adaptive. ​ Looking closer at Adichie you will find drapes construction, placed differently depending on the garment.
Certain styles bear a large gold color metal ring as decoration. This brings character and beautiful simplicity.
Adichie comes in 2 Mediterranean colors: Brandy, a rich, earthy caramel tone and Crazy Blue, a warm high sea hue.
The highlighted styles in Adichie are the halter triangle with a large ring and the new variant of the 31, called 30 with higher back and removable pads. Also on the stockman you can discover the 37 swimsuit with removable cups and large decorative ring
ELSA
Named after Elsa Schiaparelli, Elsa falls in the high-end stripes segment.
The knitted fabric is well known to Andres Sarda's customers. It is full and qualitative in the hand and has a subtle satin reflection. The large and irregular rapport is always very flattering to the body.
ELSA comes in 2 colors: Blue Eyes mixes sky blue, white and emerald green. It is fresh and summery. Paradise green combines Kaki, fuchsia and sun for a bolder option
The styles you are discovering are the 37 image swimsuit with removable pads, the 13 deep plunge with invisible structure shown with the 59 image briefs A long beach dress made of cotton veil with geometrical embroidered details brings a Balearic vibe to the collection. ​ It is closed around the collar by a simple cotton strap. We propose it in 3 colors: white, Black and Electric Blue…
KATHRYN
Kathryn is our high-end solid color line
It associates two luxurious Italian fabrics which have a matte aspect and a powdery dry feel to the touch. A double D belt is integrated in the design for a Bond girl look
Clean cut technology allows all edges to be super sharp
Kathryn only comes in black, the quintessential color of elegance
The styles you are seeing are the 23 halter, deep plunge soft triangle adaptable to different cup sizes in one product and the new 36 swimsuit with inbuilt soft support structure and 2 straps position… ​ A limited-edition strapless bikini, inspired by the last fashion show in Ibiza brings a party spirit to Kathryn. The extra-large fishnet is entirely lined with Swarovski crystals.
LAMARR
Lamarr falls in the sophisticated print segment
This exclusive Italian print was created only for Andres Sarda on a new knitted lightweight satin fabric. The print design represents a wild tropical garden and mixes 5 different tones in surprising color combinations.
Sun has a dominance of yellow and mixes blue, green and brown
Tropical Sand has a dominance of beige with an explosion of bright fuchsia, orange and turquoise blue
The special styles are the 24 deep-plunge with twisted mid front and the classic 31 in sand
Because the printed fabric was so beautiful we used a haute couture rapport to create a long dress On top, a limited edition is made from an exclusive laminated crepe fabric in flamboyant copper tone. 3 styles only: mini padded bra, image briefs with narrow waist and trikini swimsuit.