Andres Sarda Spring Summer 2022 Swimwear Collection
In the past months, we have learned to value what we used to take for granted, as we saw simple, yet essential elements of life disappear in an instant. Freedom was taken away from us, in its most fundamental sense, in the trivial aspects of our day to day lives.Now is the time to leave this behind and to live again to the fullest.For the coming summer, our collection is more vibrant and positive than ever. Spectacular in the fabrics, the colors and the shapes we are proposing because we believe women will dress with thriving desire.The series go beyond the categories of lingerie and swimwear. The freedom to use them as we want is at the core of the collection. We have created garments which are versatile, so that everyone can wear them as they want, according to their mood, the moment or the occasion. Lingerie as well as swimwear can be adorned as prêt-à-porter. Bodies can be swimsuits and vice-versa.Following our celebration of passionate women with extraordinary lives, our series carry the names of women who proved revolutionary in the worlds of fashion, art, science and literature. We believe passion is essential in life, whatever our path. Nothing is insignificant if done with passion and love.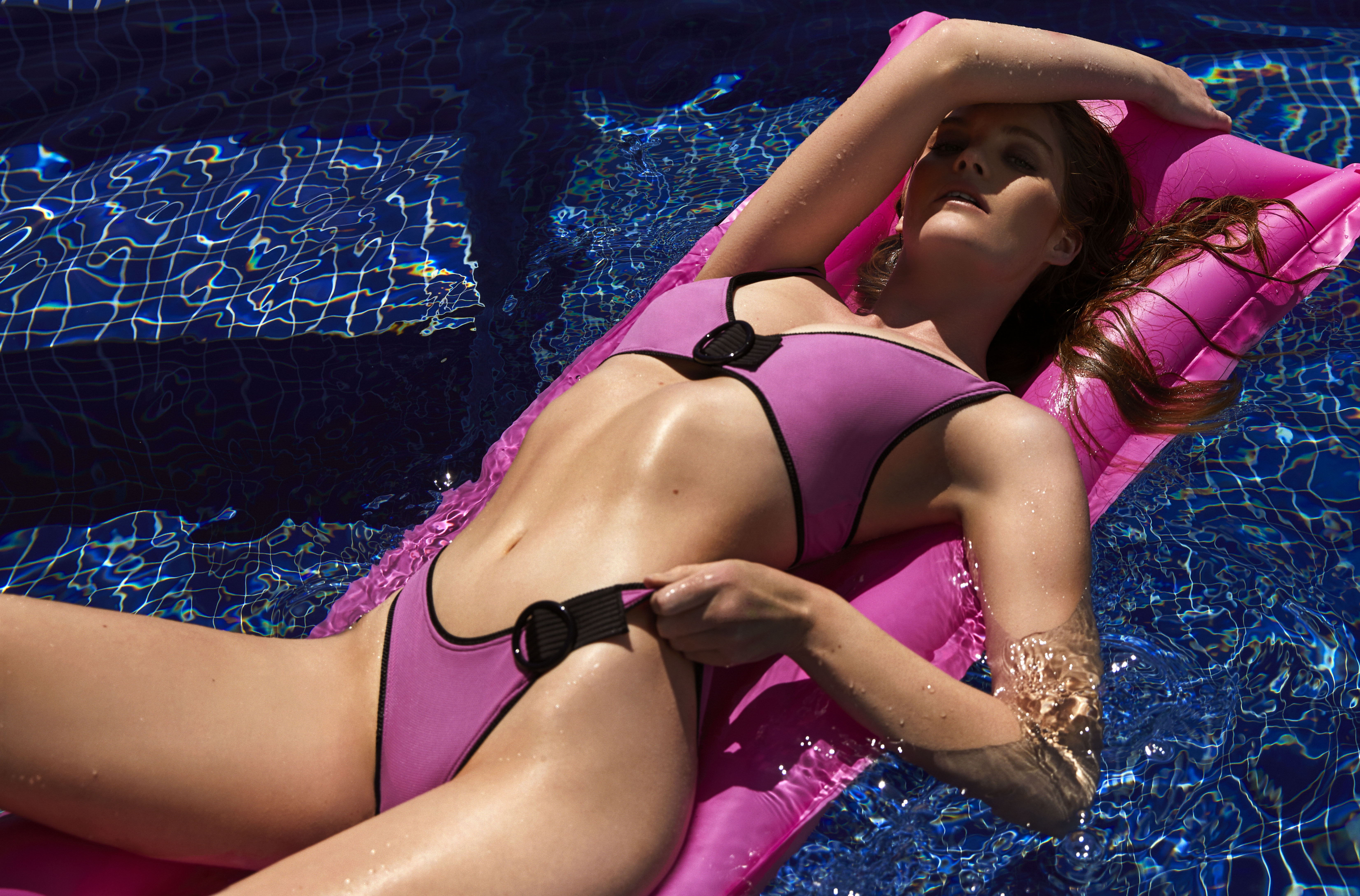 COCO
Coco is made of 3D effect knitting with fine square patterns. Bordered with contrasted piping. A large resin buckle and a belt were added on each garment for a true coco signature. Coco is available in 3 colors: Onyx, an elegant black contrasted with white piping, Pili Pili which is a jalapeño red with black piping and Pink, this color is a Bubble gum pink tone with black piping also.
CURIE
This series is named after Marie Curie, the Polish physicist who discovered radiations. Simple stripes on the front and back and checks on the sides create a surprising geometrical effect.
There are two colors for this series that complement each other. Curie Sea Blue which combines horizontal blue and white stripes for a perfect marine look and Curie Pink that combines horizontal pink and white stripes.
MOSS
The last series of the Barcelona segment is named after Kate Moss, the woman who showed that imperfection can be perfect, Moss showcases black polka dots on the front and back. Bands of Chevrons in jacquard on the sides. An orange piping gives character to all garments.
Moss is available in one color, Black polka dots on white .
DE GOUGES
This series is inspired by Olympe de Gouges, the first French feminist in the 18th Century. ​ Lightweight, extra soft Italian fabric. A gold color metal piece decorates each garment in ​ beautiful simplicity.
De Gouges comes in two colors: Caribbean Sea, as its name indicates, this color is a blue that reminds us of the Caribbean Sea and Wine, an intense tone with which you will not go unnoticed .
BEAUVOIR
Strikingly classy like Simone de Beauvoir, Beauvoir reinterprets the Sarda stripes in an asymmetrical juxtaposition of 2 colors on a lightweight Italian fabric. A tone-on-tone bicolor buckle, adds a couture detail to each garment.
Beauvoir is available in one color, Black Sea, a combination of Black and deep red.
SHELLEY
Named after Marie Shelley, the mother of Frankenstein, our first swimwear series with three main fabrics composed of recycled fibers. Craftsmanship geometrical design formed of the typical Sarda stripes, and a series of embroidered triangles. High-end feel with a green spirit.
The unique color for Shelley combines Black, terracotta, off white.
BAKER
Inspired by the fantastic Josephine Baker and her sense of the show, Baker features a mesh construction with gold lurex threads. Bordered by large bands of mat black fabric.
Baker presents the most elegant color of this season which is made up of black and gold.
WOOLF
Inspired by Virginia Woolf and her complex flow of consciousness, Woolf represents an English garden filled with large voluptuous flowers printed like a painting, on a luxurious Italian fabric with a soft sheen. Exclusive Andres Sarda design. A large creme color resin jewel finishes each garment together with a discreet AS logo.
Woolf is available in one color only; Garden is an explosion of lushious red, pink and brown on a dark green background.