Move on | Fall-Winter 2022
Hit play. This winter Andres Sarda encourages us to move our bodies. With freedom, without fear, always forward. Leaving behind everything that weighs us down. Enjoying the moment, stirring the energy, generating good vibes. One step, turn, one jump, and back again. New York and the electric sensuality of the 70s inspire a sophisticated collection. In it, the games of textures are the kings of this dance floor that is life. Sensual garments that vindicate touch and when worn it offers an explosion of sensations. Designs that challenge the canons and the concept of interior-exterior and that, once again, are adorned with jewels by the artist Max Enrich. Andrés Velencoso will be the master of ceremonies wearing designs made for the occasion. The actor and model will be in charge of accompanying us on this sensory and unique journey. An adventure that starts early and ends just as night fades.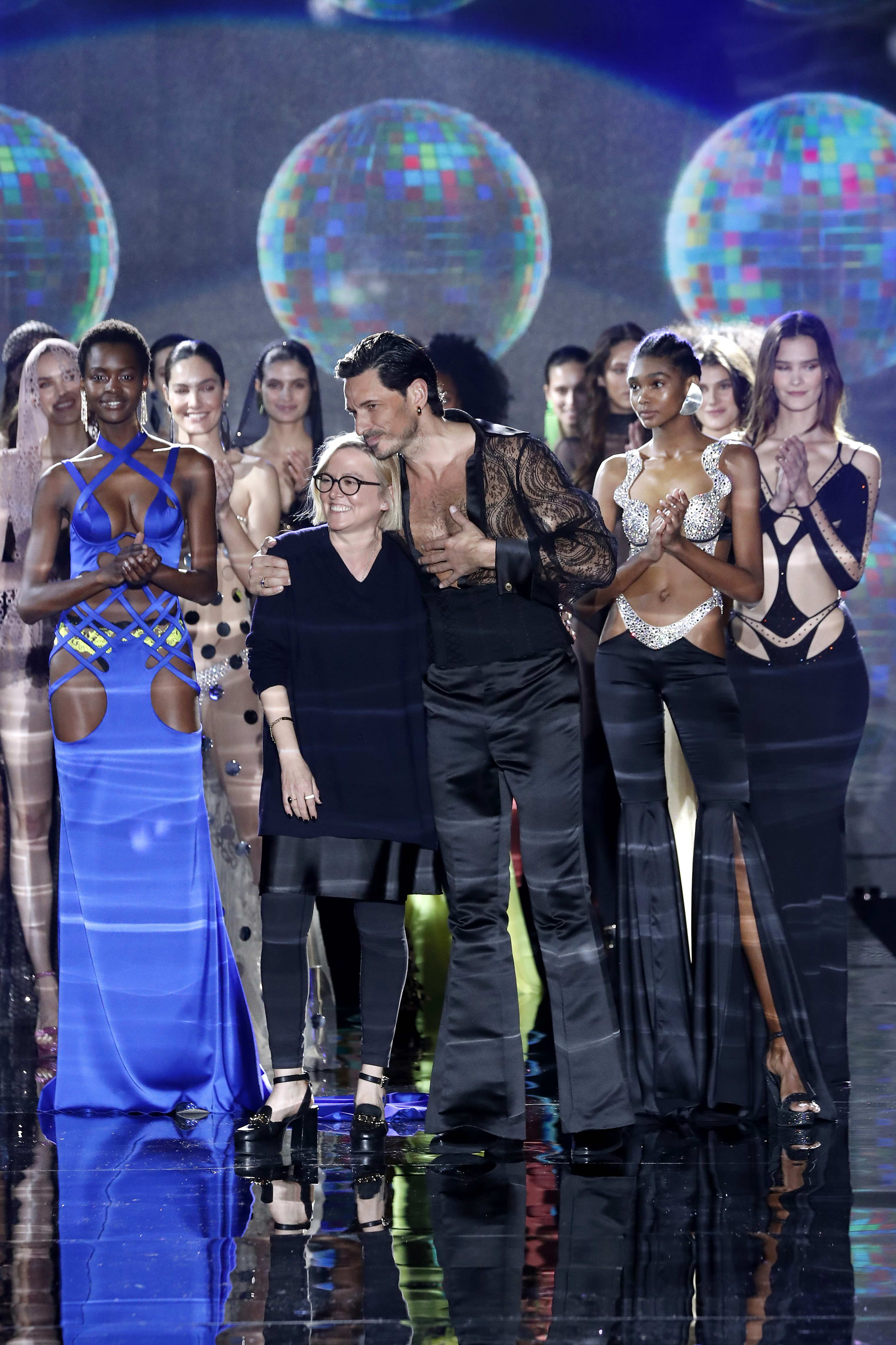 8:00 AM - Walking in rhythm
The rhythm of the city puts the melody to the choreographies of everyday life. The city gives rhythm to a set of lingerie pieces that take to the streets with their daring. They surprise with embroidered and flocked lace combined with quilted denim, tulle, cold wool and plush fabrics. The barrier between the intimate and the public is blurred and underwear is combined with voluminous dresses and upcycling jeans. The materials are colourful, extravagant and very marked, finding enjoyment in contrasts and tactile surfaces. The lines sometimes play with large volumes and others are simplified to the maximum simply following the woman's body. Say good morning to Andrés Velencoso wearing a superposition of tulle tops that draw suggestive contrasts, combined with upcycled jeans with flared hems and a seventies style.
23PM - Don't stop 'til you get enough
Night falls and everything changes. Turn up the volume, and the body launches into new rhythms. It's time to close your eyes and let go. The garments erase their barriers and adopt new expressions. The interior pieces evolve into dresses and outfits that invent a new category and surprise with their daring. The materials used are diverse and luminous thanks to the brilliant decorations of the renowned Austrian firm Swarovski. Crystals of different sizes, in unusual fluorine and gold tones, adorn pieces in different sizes and colors, providing light and sophistication. Other exquisite materials and the result of Andres Sarda's research and know-how make this moment memorable. Invisible or colored tulle, sequined mesh, mirror embroidery, tricots and silk satin make the garments unforgettable. Velencoso bids farewell wearing a luxurious outfit consisting of a haute couture lace shirt in black, with silk satin details, combined with flared trousers and a cummerbund of the same fabric.
Special cares
Andres Sarda continues to bet on quality, long-lasting and local design in collaboration with renowned European suppliers, placing special emphasis on proposals that are outside trends and the use of sustainable fabrics that take care of the planet. The introduction of crepe and tulle fabrics made from recycled fibers; embroidered with recycled threads; or recycled polyamide, as well as the introduction of supra-recycling, are some of the eco-design strategies that the firm has introduced in this new autumn-winter 2022 collection. Likewise, production on demand to minimize stocks and use of sustainable packaging as well as other contributions that help minimizing the impact of our brand on the planet.